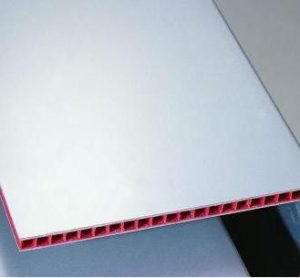 Aluminum Corrugated Plastic Panel
It is also referred to Alumacorr, which is made by corrugated plastic panel  laminated with aluminum on both two sides.
1.)Smooth aluminum surface
2.)Light weight, durable, strong anti-pressure and bending resistance
3.)Good for vinyl letters, inks and graphics
4.)10 years life span
Specification:
  1.)Thickness: From 2.5mm to 6.5mm
2.) Weight/m2: From 1.5kg/m2 to 3.5kg/m2
3.) Size: 2440mmx1220mm or as customer's request
4.) Packing: Plastic film and wooden pallet or as request
Main Application:
Alumacorr/Aluminum Corrugated Plastic Panel is widely used in construction, indoor decoration, outdoor advertisement, sinage etc,which is good in place of MDO, aluminum blanks, vinyl panels and wood core panels.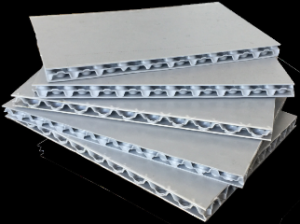 Honeycomb Composite Corrugated Panel
A Three-Layer sheet made of thermoformed central layer and two solid sheets on the external layers with the following properties:
1. High bubble density for homogeneous rigidity
2. Large bubbles for lightness and flatness